Automated Mileage Tracking
Lyft Drivers don't have easy-to-use and accurate tools to track and report their tax-deductible mileage. 
I
designed a first-of-its-kind Mileage Tracking product
in the Driver App to help drivers track all tax-deductible miles they drive with Lyft. Drivers no longer have to rely on error-prone paper tracking or download frustratingly hard-to-use 3rd-party apps.
Mileage Tracking
increases annual driver savings by $400M
, helping over 3M+ drivers maximize their financial well-being. Mileage Tracking helps build valuable
platform/brand preference
, improve
engagement
, and provide Lyft a solid foundation for designing and
upselling
future financial products
.
• Product strategy, requirements, and goal setting
• Defining the end-to-end experience, user journey/flows
• User research and concept validation
• Using Sketch to design mockups, iterations, and host design critiques
• Using Principle to create interactive prototypes for critiques, communications, and user testing
• Usability studies and user interview sessions
• Technical evaluations, engineering handoff, and iOS/Android asset delivery
• MVP design and strategy presentation to VP of Design & Directors of Design
•Design (Cross-team designers, design system designers, content strategists)

• Research (UX researchers)

•Product (PM, PMM, Driver Experience Management)

• Engineering (SWEs, EMs)
• Legal
• Customer Support & Experience
Lyft Drivers don't have accurate and easy-to-use tools to maximize the tax deductions they claim from their Lyft mileage.
Most drivers
don't know they can even deduct miles
, or they
don't know how
to start tracking their miles. Drivers who already deduct miles are
broadly under-reporting their miles
, because the tools available aren't able to capture every possible deductible activity.

• More tax deductions = more savings
• Up to $400M in annual driver savings
• Better and more accurate financial support
• Grow user base for fintech products, with potential to upsell for other products like banking (Lyft Direct)
• Become the platform of choice by better supporting drivers beyond just ride-share earnings
Defining the End-to-End Experience
I conducted a comprehensive competitive audit of similar apps to understand the business, product, and design tactics used by other companies in solving the problem of tracking tax-deductible mileage.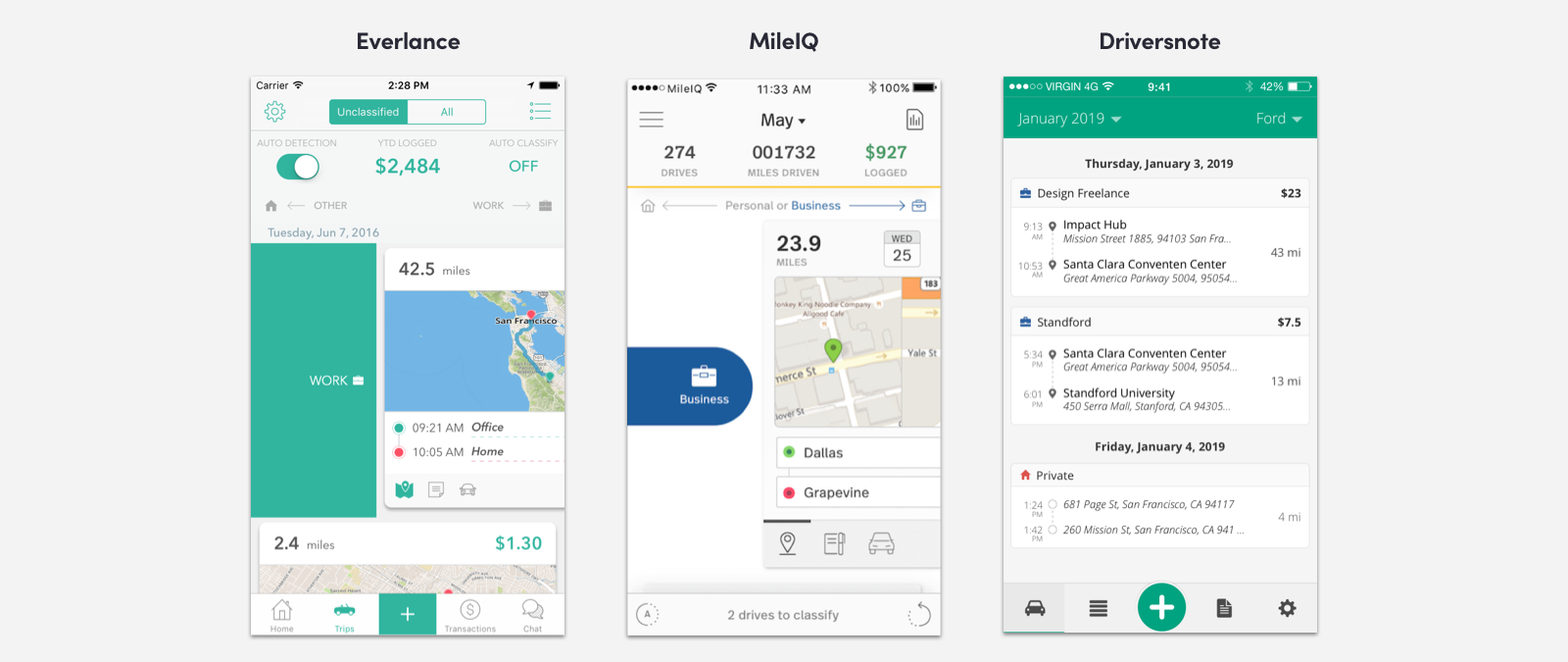 To ensure a comprehensive and seamless product experience, I coined five major "Experience Pillars." Each Pillar describes a key step in the user's journey from discovering the product, using the product, and realizing value from the product. Breaking the product and experience down into segments also made it easier to:
• Break down the design process into approachable steps
• Communicate and influence cross-functional stakeholders
• Plan engineering sprints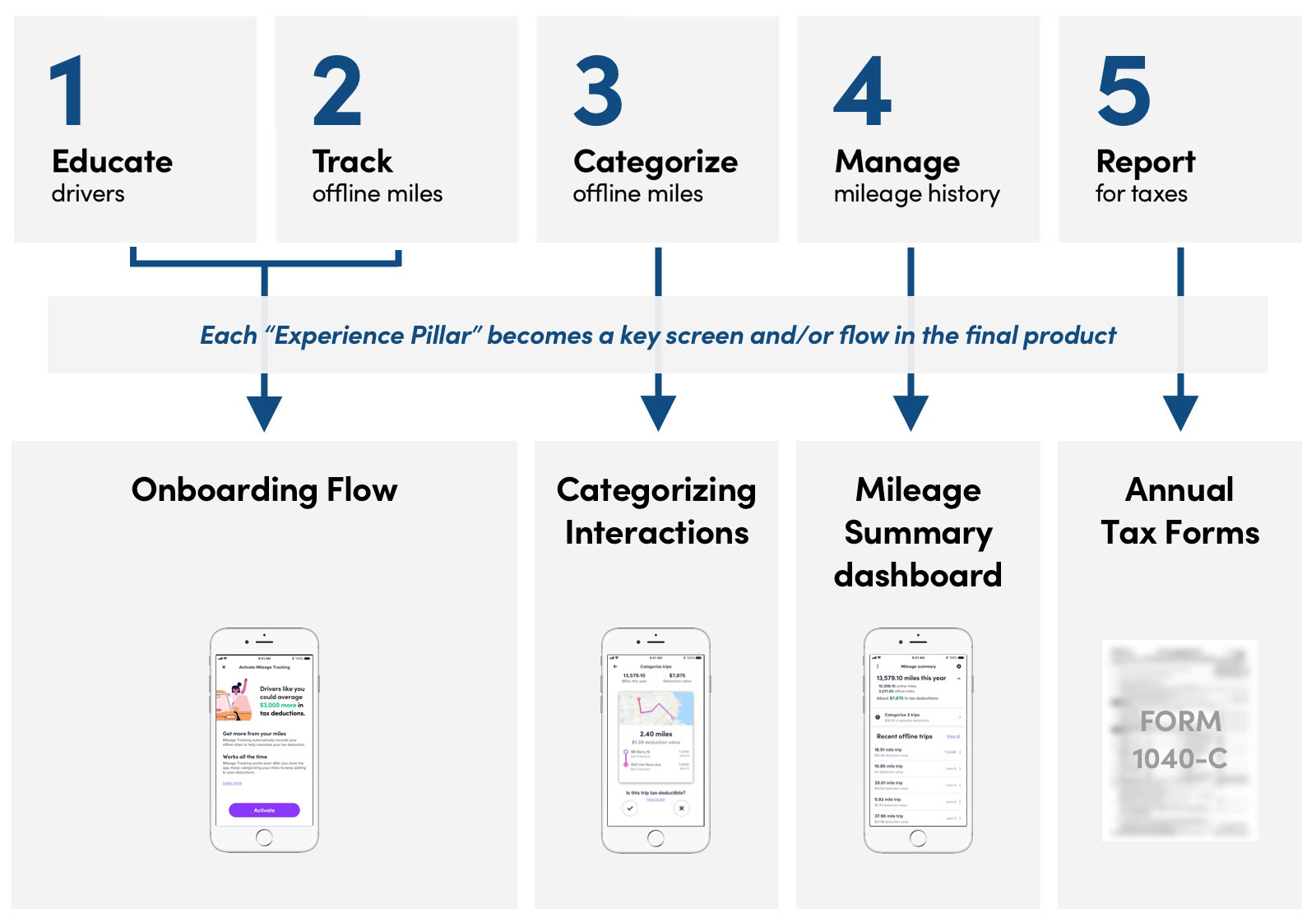 For each of the five "Experience Pillars" above, I created user flows. I brought these flows into design critiques to explore how effective they solved user needs. I also used these flows to identify edge cases early on, to help anticipate any specific design and engineering needs that may arise later on.

The goals of an onboarding flow are to maximize product adoption while minimizing confusion during the onboarding process. An onboarding that is too lengthy or asks for too much from the user risks user fatigue. An onboarding that doesn't explain how the feature works risks churn.
In employing a value-oriented onboarding strategy, I designed three sequences for onboarding – discovering the product, learning about the product, and activating the product.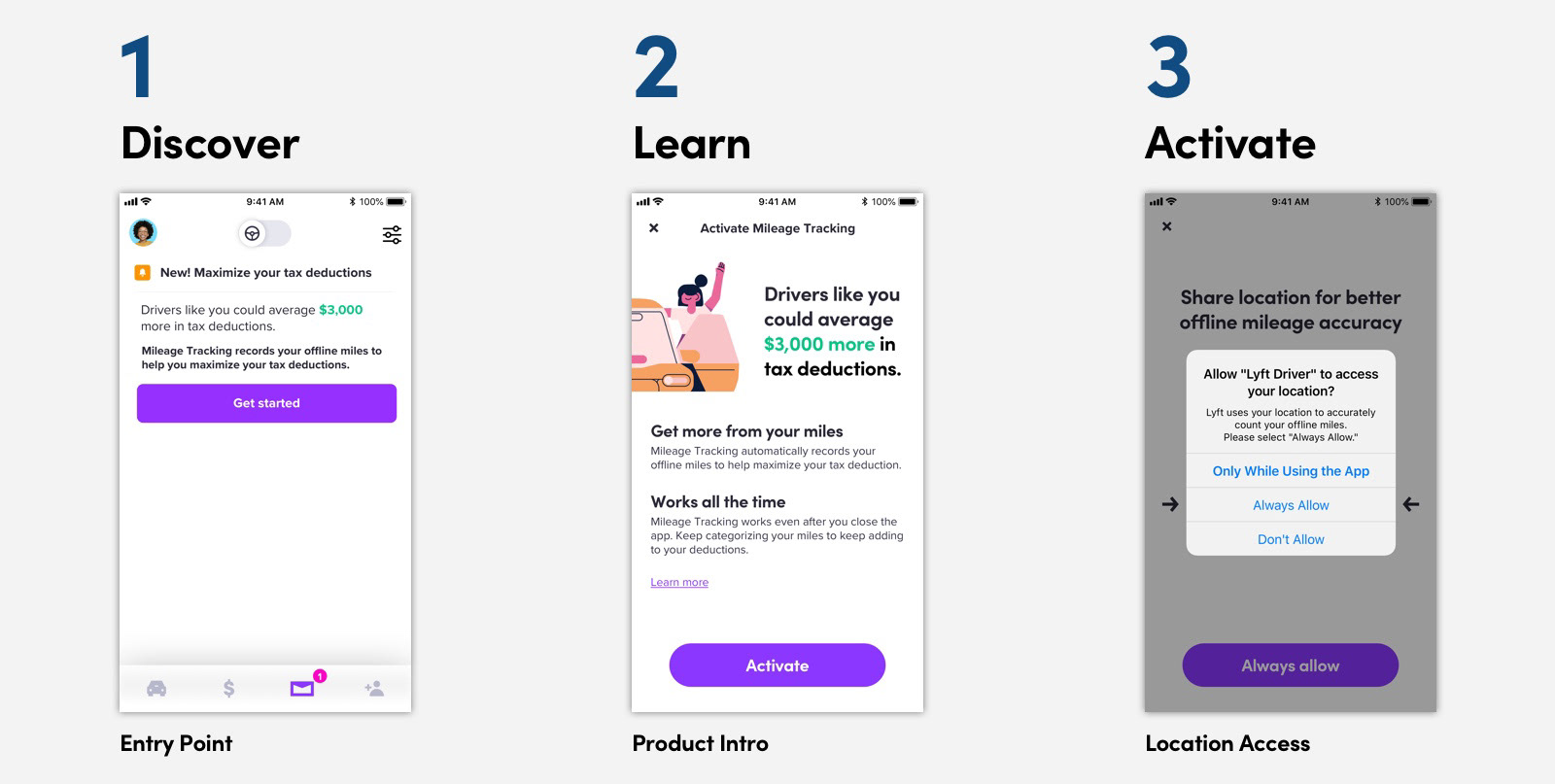 First impressions matter, and with this product, the first impression was the entry point. I explored a number of different entry points for this feature to grab user attention. 

First impressions matter, and with this product, the first impression was the entry point. I explored a number of different entry points for this feature to grab user attention. 
Using notifications for product news was. Design A was a good option because Lyft already uses emails to notify drivers of new products and features. Design B was another good option because of its high visibility. Design C was not favored because it competed and interfered with many metrics and desired behaviors on the Earnings Tab. Design D was a good exploration, but deemed to be not a primary entry point. Since most new product announcements already come through the Notifications Tab, Design E was the best option to maximize user acquisition.
Product Intro Explorations
To educate drivers on the product's value proposition and how it works, I designed a number of different options for a product intro screen.

The carousel design was not favored because users tended to not understand the product even after going through the carousel pages (users just kept on tapping next). The full text design and FAQ designs were very overwhelming because of the amount of text; the amount of text became a reason why some users said they would not use the product. Taking this user feedback, along with the feedback from design critiques, I iterated through two more shortened forms for the Product Intro – designs D and E (seen below).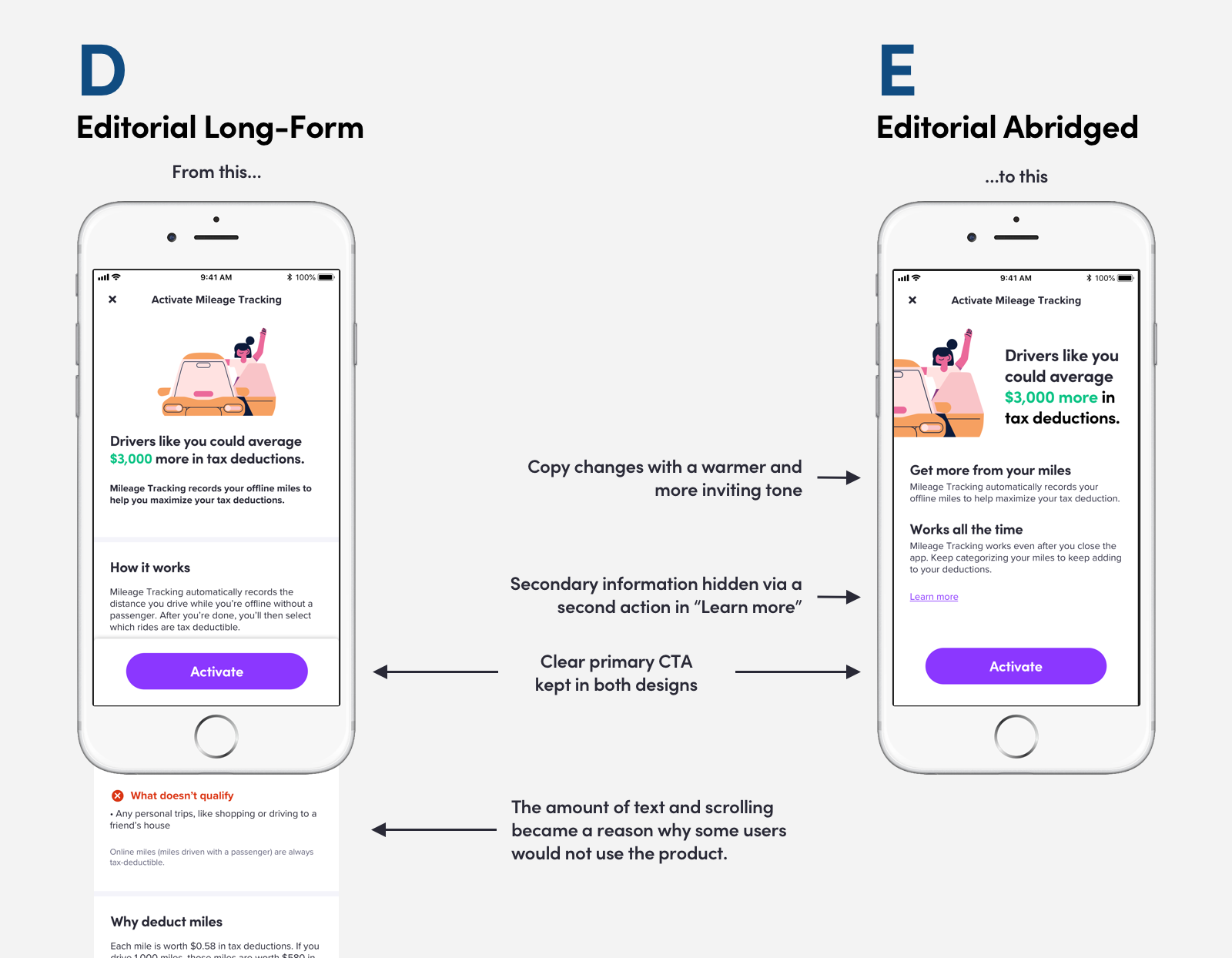 Cross-Platform Compatibility
Lyft Drivers use both Android and iOS devices. In an ideal case the core experiences across all platforms are consistent, so I create a golden flow that is largely identical across all platforms. However, particular functions of each platform are different, and those instances require individualized solutions – different designs, copy, interactions, etc.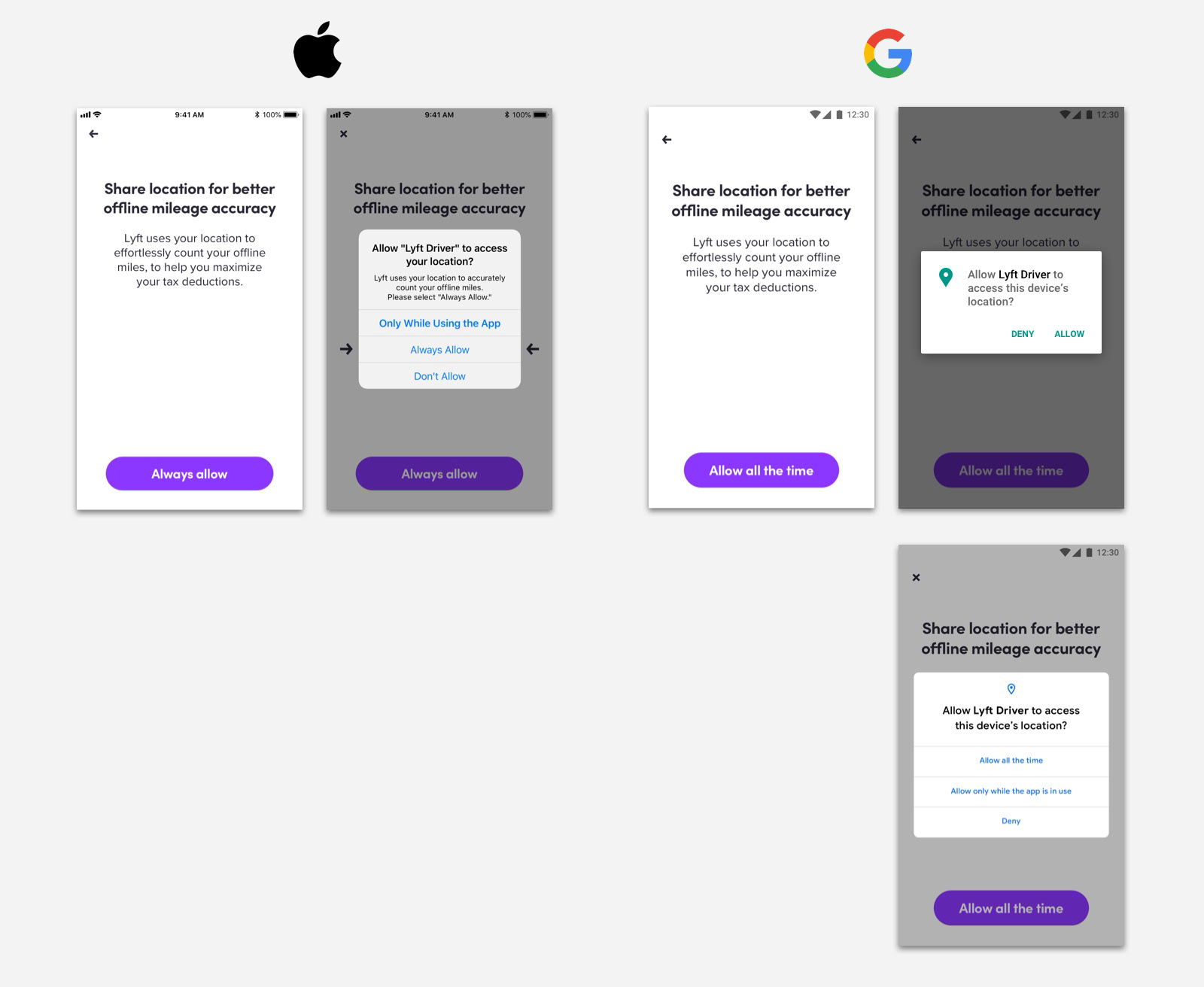 Categorizing Interactions
Mileage Tracking works to detect potentially tax-deductible trips while a Lyft Driver's phone is in the background. It is up to the user to categorize – and thus identifying – trips that are actually tax-deductible. There were five key design questions I considered when designing interfaces and interactions for categorizing trips:
• When does Lyft ask a driver to categorize a trip?
• How often might Lyft ask a driver to categorize a trip?
• How might the categorization interaction support a large number of trips?
• How might the copy, design, and interaction paradigms promote accurate categorization?
• How might the categorization interaction promote fast user feedback/input?
Categorization Interaction Explorations
I explored multiple options to gather user input on categorization. I used multiple different mental models in designing the multiple options. Using Principle to create interactive and dynamic prototypes, I gathered user feedback from in-person usability studies and feedback from designers and cross-functional partners. Four explorations are shown below.

Why Interaction A? Why not other interactions?
• Drivers were more comfortable with Interaction A and Interaction C's larger maps. Seeing larger maps made drivers feel more confident in their decision, since they could see more location information.
• Drivers felt like the back-and-forth in Interaction C (back-and-forth between the list and detail view) would take too long if there were more than 5 trips to categorize at one time.
• Drivers did not immediately recognize and understand the swiping action in Interaction D. Many drivers wondered and suggested if the selection could just be a button instead of a swipe.
• While Interaction B was positively received by drivers, I decided against pursuing Interaction B because from a legal standpoint, Lyft needs an explicit "yes" or "no" input from the driver.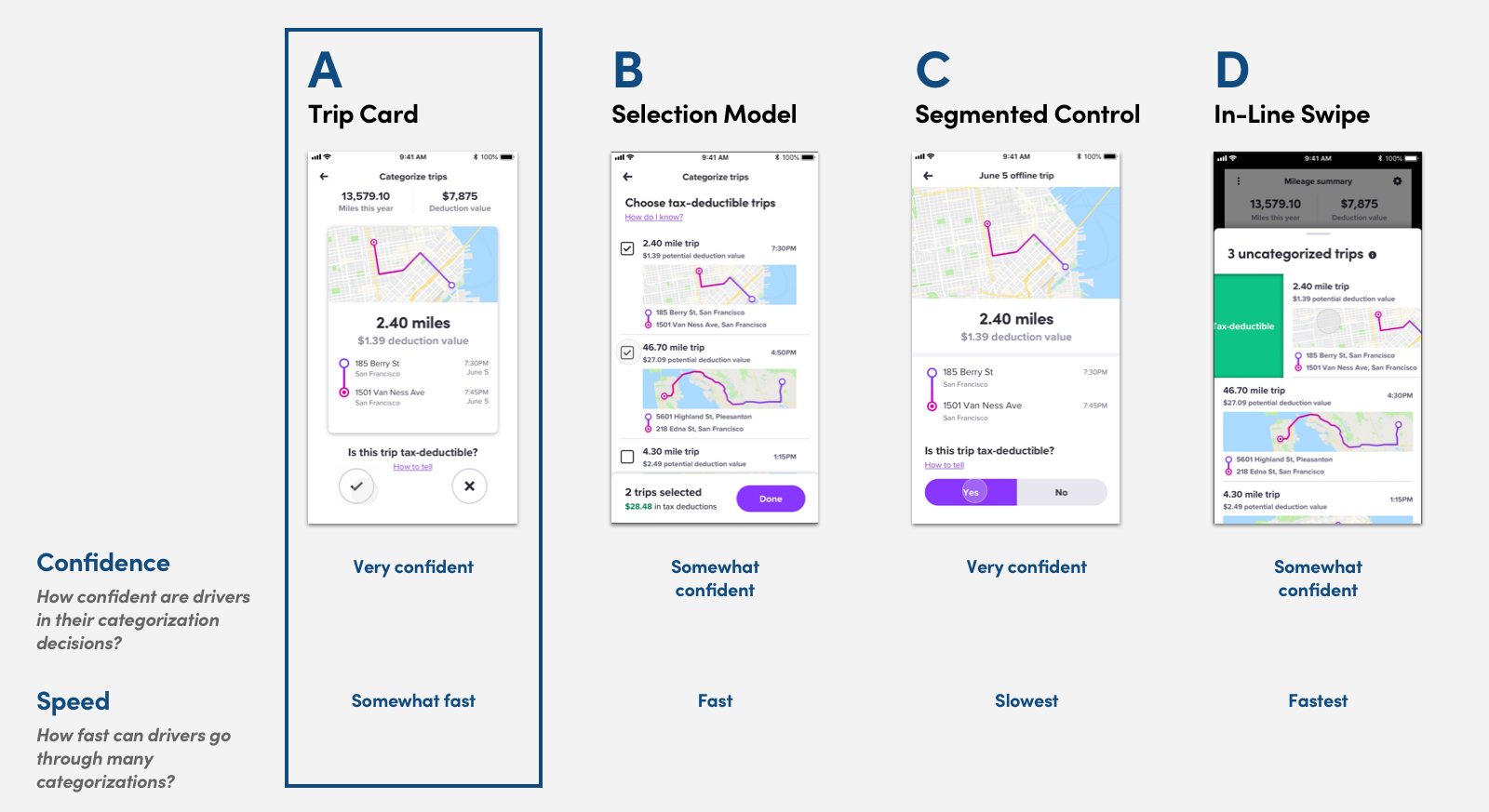 The Mileage Summary is a key element of organizing the data and information that is created by this feature. The summary is a dashboard to hold previous trips, year-to-date mileage, and actions to categorize mileage. It is a "hub" for everything mileage-related. My goals in designing the Mileage Summary were to:
• Build an organized summary for essential information, without distractions
• Serve as a central hub for actions and additional mileage opportunities
I was inspired by a "dashboard" type of concept for the Mileage Summary. I divided the Mileage Summary into (1) actions, and (2) information.
There are two types of actions – (1) important, primary actions and (2) less frequently used, secondary actions.
There are two pieces of information necessary – (1) a summary of a driver's mileage, and (2) a history of the year-to-date mileage.
I explored many different layouts for displaying and prioritizing information, while encouraging the right types and frequencies of actions. When evaluating each of the layouts (below), I prioritized usability, speed to/ease of complete actions, and clarity (a clear sense of direction for actions).


Testing with Bay Area Drivers
I independently planned, coordinated, and conducted whole-day usability tests and user interviews at Lyft's San Francisco Driver Hub. I worked with customer support teams to reserve space, recruit drivers, sign paperwork, gather research incentives, and write interview and prototype facilitation plans.

User Interviews (10 mins)
• Validate concepts and product need
Usability Testing (15 mins)
• Driver holds test device running prototype
• I asked scripted and pre-planned tasks while drivers navigated through the app out loud
• Measured key indicators such as seconds to complete task and successful task completion rate
• Observer took notes and kept audio/video recordings for documentation
Debrief Interview (5 mins)
• I asked questions about driver's overall impression, whether they would use the product, whether they would recommend the product, etc.


Outcomes and Final Design
Hundreds of thousands of drivers will be able to take advantage of this automated tool to maximize their tax deductions, potentially saving them thousands of dollars every year. Collectively, Mileage Tracking increases annual driver savings by $400M, from $1.4B in additional tax deductions.

Lyft will be able to demonstrate to over 3 million drivers its commitment to excellent and uplifting financial services. Mileage Tracking improves brand and platform preference in an increasingly competitive gig economy playing field. With the launch of Mileage Tracking alongside other driver programs, Lyft can build out a larger foundation of users for future products outside of ridesharing.

Product Demo (Final Design)
Lessons Learned and Retrospective
I learned how to take a brand new product idea from concept to MVP in a matter of a few months. I learned how to scope and prioritize MVP designs, break down a large experience into smaller chunks for design and cross-functional stakeholders. I also learned how to put large-scale projects onto the drawing board, prototype pieces of the experience, and take those prototypes into critiques and user testing rooms for feedback. Working on Mileage Tracking was a fantastic experience, it taught me more about new product development than any other product before, and taught me how to delicately balance ambitious impact and business goals with sensitive user needs and elegant experiences.
1. I would design/conceptualize a future version alongside the MVP to better communicate the long-term vision. This would be especially helpful when communicating with stakeholders that are more big-picture vision minded.
2. I would have tried harder to gather quantitative data from larger sample sizes, as opposed to the mostly random sampling I did. This would give more statistically significant results needed for designing at scale.